Obviously possible spoilers ahead.
At the end of Chapter 12 (S02E04) we see the droid talking to a "Comms Officer" about placing a tracking device on the Razor Crest. My GUESS, and I highly doubt I am the only one to think this, is that was Doctor Aphra. The "Comms Officer", as IMDB has it, is played by Katy M. O'Brian and she has a talking part. While sure, it could just be an extra in the show, they usually do not give extras talking parts. Plus, she kinda looks like her a little bit. Example: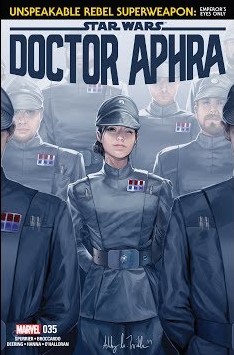 Don't bother looking on eBay, all the cheap copies are gone. Replaced with higher priced ones now. It's probably a lower printed book because it was late in the series and Volume 1 wasn't particularly popular.
Another heads up, the next episode is titled "The Jedi" and directed by Dave Filoni who helped create Ahsoka Tano so…