Is that Ant book ever gonna come out? Feels like its been pushed back on foc so many times
Every cover A of Nightwing has been awesome. I love the style Bruno has been pumping out with them, they remind me of Hughes cover run on black widow. I think both of those series will heat up down the road due to the covers.
I added
Orville Artifacts #1 (For the read)
AUG210019 - [x2] Hellcop #1 (Always good to pick up some blanks, I sold a bunch of Stray Dog #1s at a profit.)
I like black and white sketch 2nd prints.
AUG218382 - [x2] Shang Chi #3 [2nd Ptg]
AUG218381 - [x] Shang Chi #4 [2nd Ptg]
The Marvel Voices Community #1 Ramos VAR cover, is that the new 1st app, 1st cover?.
PLUS, an all-new hero takes the stage in a whirlwind adventure you won't want to miss.
New characters on The Bustos cover?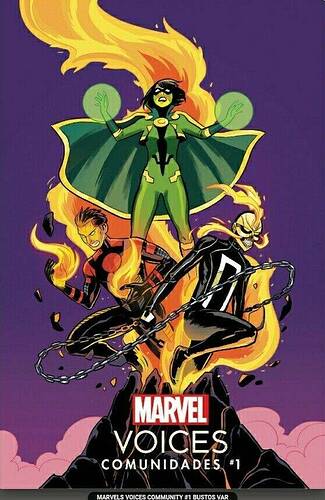 I think so. 1st appearance in the issue so the cover appearance would be a good play
The Marvel Voices Pride #1 for $9.99 was a pretty good gamble, sold a lot of those. Might go for this one too.
At $9.99 you would think lower print run and stores not going to heavy on it?. With a 1st app, and possibly more I think it would be a good pickup. Especially if that is the new 1st app character on the VAR cover

Definitely a new character and they held back the Ramos Cover until the last second of foc. They said a new hero emerges in the synopsis so this could Definitely be her 1st cover and 1st appearance.
I dont think so. That's Hummimgbird, Inferno, and Robbie Reyes. All Hispanic superheroes already introduced in prior titles.
Might be Eva who was previously introduced in Reptil #1. If so, maybe this is a first cover appearance (?) but not a first outright.
I think you might be right. It looks like her and she appears to be using magic, which is Eva's superpower.
The solicitation for Marvel Voices Community says "an all-new hero takes the stage in a whirlwind adventure you won't want to miss."
… I wonder if they are talking about Eva? In Reptil's last arc she had used some magic spells but I'm not sure she'd be classified as a hero or superhero at that point. And at the very end of the arc she picks up the pieces of a 2nd amulet that might end up enhancing her powers.
Could be Eva. I'm picking up the America Chavez cover just cuz I'm a fan but the Ramos looks nice. Don't know I'd go nuts on this book.
I'm kind of digging the Wolf variant with White Tiger. I can see them giving her a bigger push going forward, and other than her mini series with Mack covers and that one Mighty Avengers, there aren't many that stick out in my mind
Yup you are correct it looks to be Humberto's cousin Eva, 1st app Reptil #1. This looks like a 1st cover app so I'll pick up a copy or two. Saw a few posts earlier this morning mentioning it was Eva from Reptil #1. Thanks for posting the info it was driving me nuts…
I really like this cover also, it looks great!!!