I sold that cover not too long ago. Found a VF copy for $3. Got a pretty good run of JTC Witchblade covers. Sold them all now.
TFAW finally has Hulk 181 Foil!
No way tfaw fills orders for hulk 181 foil at $3.15. They will either cancel or raise the price. It's the usual case of them not paying attention
Prewieworld does not have a price for Hulk 181 Foil. The regular cover has a price. Every place that is selling Hulk 181 Foil gives a different price.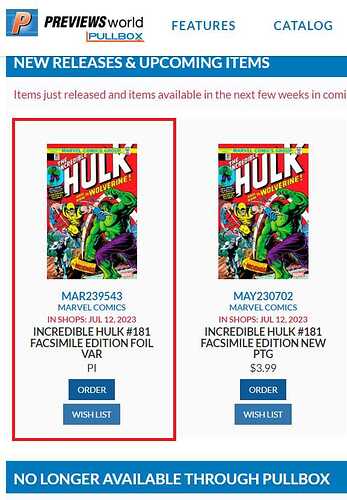 Shops are being charged full cover price on the foils from the distributors, therefore shops are marking it up beyond the suggested cover price to whatever they feel they should make profit off of it.
It's a free for all.
Thats literally why they're talking about it…
My bad. He was talking about some other marvel books
Sold out? How does a pre-order comic get sold out?
since the pre ordering window closed 2 days ago on foil