https://www.shopdisney.com/mickey-mouse-and-jose-funko-pop-bobble-head-set-the-enchanted-tiki-room-walt-disney-world-50th-anniversary-889698632645.html?isProductSearch=1&plpPosition=undefined&searchType=autosuggest-popular&siteSearchTopProduct=1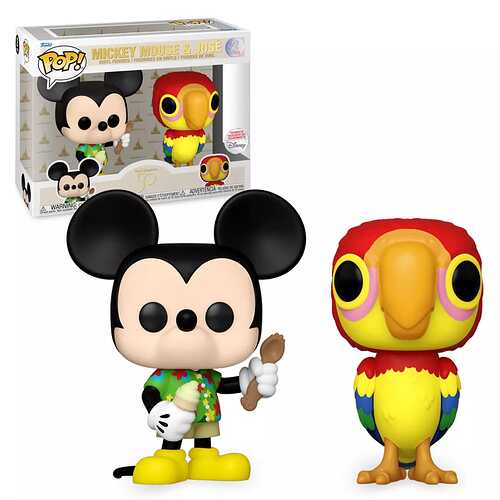 What's up, CHUsters! Emerald City Comic Con is only a few days away! And you wouldn't know it by looking at it, but there will be Funko exclusives. However, they will not be at ECCC. For the first time in a long time, Funko has skipped out on having a booth at ECCC. They will have a panel, but all Funko celebrations will be at their Everett location.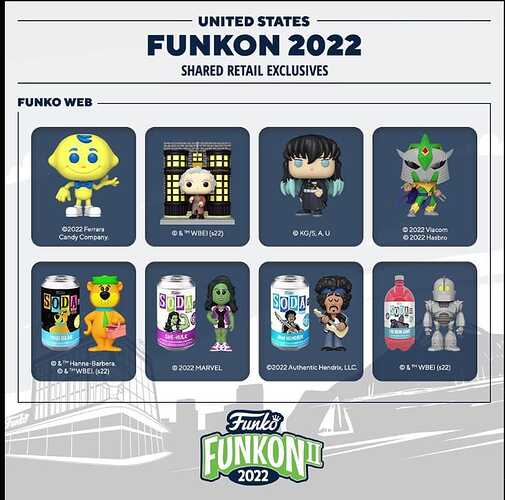 Those are all of the exclusives for their Funkon II celebration. Yup, that's it! They'll drop online on Friday around 6am PST, and chances are you'll have a good chance to grab all of them if you want. The only one that I think is a must grab is the Demon Slayer character. Also, while I normally don't go heavy on the Sodas, I think that Iron Giant 2-liter bottle is a good one. Iron Giant fans are everywhere and love collecting all versions of him.
If you decide to make the one-hour trip to Everett, Funko is promising a big bash with tons of giveaways. It'll be on Saturday, from 10am until about 6pm.
If you wish to purchase these POPs at Everett to get the exclusive sticker, you'll have to line up for a wristband and hope that they don't sell out. Here is Funko's info on how to get a wristband:

But hey, if you do go to the Headquarters, you'll still be able to buy some past exclusives that may be sold out online. You'll never know what to find!
I imagine this will be wildly popular:
Yeah my wife missed the first wave. So I'll let her know about this one. Thank you
A few shops already have preorders up:
Here's The Mighty Hobby. Sharing them because they're from my hometown of Brownsville, TX
Bullseye is so cute with that shirt!
Limited-time deal: Funko - Marvel Collector Corps - Lucha Libre Edition - Mystery Box Amazon.com
Amazon has the exclusive Luchador POPs on sale again. Easily sell them for $10 each.
These look like piles of mashed potatoes. I'm not big on them. However, I'm not one to yuck somebody else's yum. So, if you want these, I fully support that! Also, don't hate me if you one day catch me with a couple in my office.
I picked up a Muhammed Ali #1 and Steamboat Willie (Mickey Mouse) yesterday at the LCS. Classic Ali pose after knocking down Liston and Steamboat is black and white. They look really cool
Oh, I also picked up the Kate Bishop Target exclusive one. I like the uniqueness of the colors used (it's bright!)
I saw the snowmen in hot topic today. Hard pass.
Looks like they were in the Microwave for about a minute or more, definite pass for sure.