As expected. So I guess since the original price was $29.99, and now they sold it for $200, does that mean that $230 go towards charity? Or just the original $30?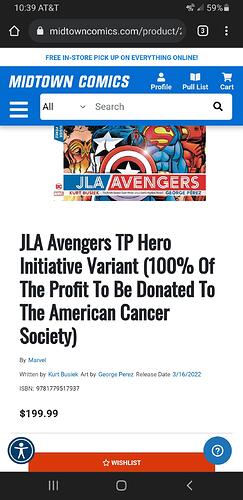 That's a really good question, I would hope the $180

It does say 100% of the profit. So not all of it if it's based on profit.
F'd up. Should be "all proceeds".
Big place like midtown can't eat the expense and pitch in $30 of their own expenses for the cause?
Well, considering their latest policy is to only offer 20% discount, return the book at your cost for full refund or wait until your next shipment for replacement copies, sounds like Midtown is in a cash crunch…
MCS listed one for auction on their website. I didn't see anything about devoting any proceeds towards charity.
Just found out my copy came in!!!
It's literally in the listing for the auction on MCS's site.
Happy for you and also somewhat want to curse you out.

All proceeds go to the hero initiative! Even if you
Flip it!
It's required by comic book flipping law.
Yup, enforced by @D-Rog himself. If you don't donate, he shows up with a bat!
I get a little concerned every time I see this thread bumped to the top. But I have to remind myself that it's not the New Year's 2022 thread.
Same here. I never want to see this thread bumped ever.
Yah I hate when this thread is bumped as well.
That was my first thought as well…