The only new books I grabbed today. All the one-per-stores had left the shelf before opening.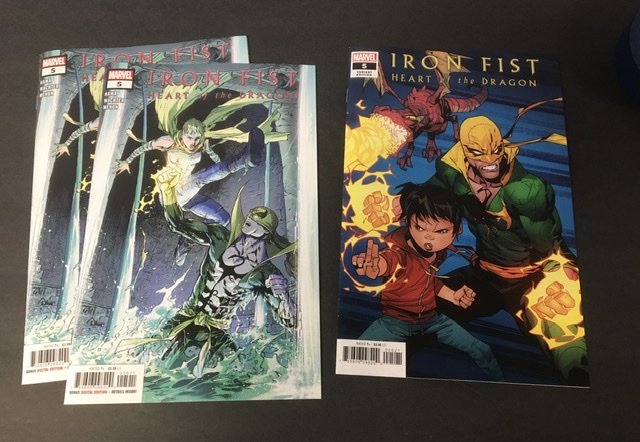 Iron Fist HOTD had a 1 per store?
No, Eve #1 and Wynd #6. I was looking for those.
eve #1 1:50 is scarce out there
We live 5 second print. 3 stores zero copies
Slow day for me. I got Nocterra #3 and America #3. That was it. I slowed my roll on buying this week.
I had pre ordered a copy at my LCS and missed out. They only got 4 copies total.
No Nottingham, no Bounty Hunters 12 and only one Hulk Time of Monsters…and it had severe color rub on the back.
So grabbing some of these through TFAW.
Did pick up a CApt America 352 for $3 though.
No Bounty Hunters? Did they get shorted or was it super popular?
LCS #1 yesterday didn't get their books until the afternoon. Went at opening today and it (as well as HRA6) were gone.
LCS # 2 didn't have any Bs Jabba. Did grab a HRA6 but it was a little bent.
LCS #3 didn't have either.
Luckily I had already ordered a copy of each through TFAW, so I was covered…but went back to grab another and saw it was now sold out.
Also scored a 1:10 Phage for cover. And a White #1 2nd print. So that was cool!
It looks like the Chang variant for Bounty Hunters Hutt wasn't as heavily ordered as one would expect. Only about 20 active listings on eBay. Pretty low for a book like this. I expected hundreds.
I think this character gives Disney the perfect segue to introduce the High Republic initiative in the Mandalorian. It could be a few years, but I can see it happening.
lucas film is team behind everything high republic, all of this stuff was purposely designed for future film/tv use
That's what I think too. I think the main reason for the event was to introduce this character.
with her being at least 500 years old, they can use her in anything they want, very open ended character
If anyone needs extras I have a ton!
I spoke with TFAW cs and they said they were shorted the 1:25 Jabba Coello. 1:10 HRA6 was damaged. They have replacement orders in for both already apparently.

Yeah, I talked with them too and they said the same thing.