Keeping my fingers crossed for the SW variant too; ordered but doesnt even show if processed.
Changes the title to reflect thread is about new comics.
Here's what I grabbed today, including some back issues.
Nothing too exciting.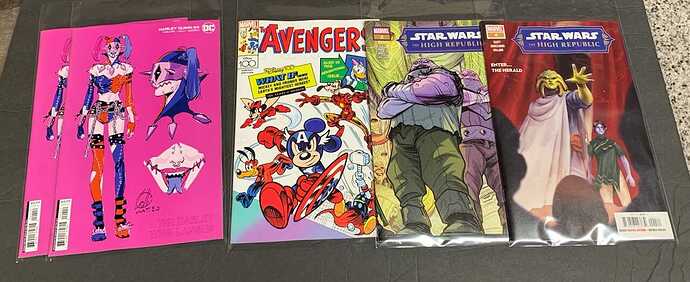 Surprised to find HQ 57 Tedesco variant for cover. My pick for cover of the year when it came out (2019). Thought it would rival Batgirl 23…

Its weird sometimes what covers get super hot and what doesnt. It is a great cover.
Ordered these online as I couldn't find them locally…didn't hear/see this cover until after FOC.
Seems most places sold out online. I just think it's a great cover, so I if I'm going to have pay to ship one why not buy 3 for the same shipping cost. Stash away for maybe another day.
20% off cover also helped counter shipping cost.
Does anyone know what an R1C0 variant is?
R1C0 is the cover artist's name. He's got some other covers out there that I like also.
Ok, I just looked that up as well. Never heard of this person. Interesting name.
I think it's Rico Renzi, long time colorist who colored Robbi Rodriguez. I know of him from Edge of Spider verse 2 first spider-gwen. I think recently he started doing covers.
R1C0 is a clever way to do your name. It's always fun when creators have little alias names. Frank Quitely, anyone?
I picked up that Ghost Rider too. I'm behind on my reading of the issues but have loved what I've read of the run so far.
Found zero copies of Spider-Man 7 2nd print today.
my LCS's don't order 2nd prints very often.
Only one shop I frequent ever really bothers with later printings.
My LCS had 25+ of the 2nd print. Limit 1 per customer.
Lol. They'll regret that when they're filling up the dollar bins.
I was hoping an LCS would have a few to choose from…I did not pre-order as I didn't want to get stuck with one in case marvel decided to use crappy paper.
There is a comic show not far from me this weekend…will
Probably not an LCS or just grab one at the show if they have new books out.
So apparently a truck crashed carrying diamond books this week which has effected distribution of this weeks comics in parts of New England?
Both my local shops did not have new books today.
Anyone else hear of / effected by this?
Yup all the LCS here in RI got affected
All the UK shipment from Diamond was apparently impacted, at least that's what one major retailer told me.
The truck driver violently swerved off the road and crashed…it was reported that he had read a few of the Marvel issues and was trying to protect the readers.